BIO AND SYNOPSIS
Aki Nakazawa, Negai wohiku, Japan/Germany 2006, 4:35
BIO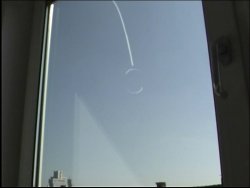 Aki Nakazawa, born in 1976 in Tokyo is a video artist and a curator for short film and media art at the College of Art, Nihon University in Tokyo. Since 1997, she has been a member of the group 'Spread Video - art Project', which curates mainly independent artists' works including video art, documentary, experimental, animation, various kinds of film and video.
Her artistic intention refers to "the sensuality of image" and "appearance of image with words", stands on the border between fiction and non - fiction. Nakazawa works in various kinds of genre such as video-art, documentary, animation and others.
SYNOPSIS
In today's globalized world with big infrastructure such as Internet, world-trade and so on, to have easy-access to our homeland, how we can recognize the exchange between circumstances and our identities. It could be easy to depend on you nostalgic home and not to go out to new world. Only the sky that you have never seen before makes you realize that you are already out of your past. Trails draw borderlines to leave the story behind, and to find the new with wishes.
Pascual Sisto, 28 Years in the Implicate Order, USA 2005, installation
BIO
Raised in Barcelona, Pascual Sisto graduated in film from Art Center College of Design in Pasadena, California. His film and video work has been shown widely, including the Centre Pompidou in Paris, the Museum of Latin American Art (Malba) in Buenos Aires, TVE Spanish Television and the Los Angeles International Short Film Festival. Recent exhibitions include the LA Freewaves at the Hammer Museum in Los Angeles, Reencontres Internationales Paris/Berlin Festival in Paris, Viper Festival in Basel, AKA Gallery in Rome and a number of exhibitions in the United States.
SYNOPSIS
The video consists of a locked off shot off an empty parking lot. A centered sodium vapor light illuminates the night landscape. 28 red balls bounce up and down in a chaotic random order. As the video reaches its mid point, the balls align themselves until they reach the point where they all bounce at the same precise moment and then resume to go back into chaos.
Stadtmusik, Mauerpark, Austria 2007, 17:25
BIO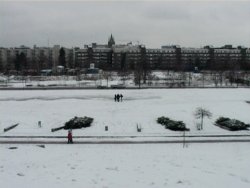 Stadtmusik is a formation of the Linz-based media artist Dietmar Offenhuber and the Berlin group TamTam founded by Sam Auinger and Hannes Strobl. Under this name they run various projects dealing with architectural and sonic spaces. Born in 1973 in Linz, Offenhuber graduated with a degree in Architecture and has been working since 1994 in animation, interactive environments and digital architecture. Between 2002 and 2004 he held a position of a key researcher at the Ars Electronica Futurelab. Auinger was born in Linz in 1956. He is a composer, performer and a sound artist. He has dealt intensively with the subjects of composition, computer music, psycho acoustics, and sound design. Strobl, born in 1966, lives and works in Berlin. He is a bass player and composer, developing a new musical language on the bass.
SYNOPSIS
The camera depicts a static winter landscape. The whiteness of a snow-covered meadow is crossed by two roads; the cyclists and walkers commute, you can see a row of houses and a street. Mauerpark, well known Berlin's parkway, transforms this seemingly simple image in an exciting exploration of perception and city space. It is only the first short moment that we think we are observing an unspectacular scene: visual irritations break into the frame, certain parts of the image suddenly blur. The eye is directed where it can clearly recognize the events, everything else goes beyond the perception and in the next moment it arises out of nothingness when the sharpness is changed.
Tal Amiran, Untitled (band in a studio), UK 2006, 2:23
BIO
Born in 1979 in Tel Aviv, Tal Amiran is a video artist living and working in the UK. He has studied in Art Schools in Israel and UK. His major exhibitions include 'That Which stands In Our Path' at the Brick Lane Gallery, UK 'Future Map 06' at The Arts Gallery in London and a curated program 'The Bigger Picture' at Cornerhouse and BBC, The Big Screen in Manchester.
SYNOPSIS
A rock band is filmed in a studio during the making of a music video. The set for the video consists of numerous video cameras with their lights on, arranged in a circle. The circle of lights form a ring and within that ring the band is situated. In the second scene of the film, a performer comes in and out of the frame as he plays his guitar frenetically. The last scene shows the band waiting, looking bewildered. At the centre of the work is the uncertainty we feel in regard to what we see, as the footage documents a real activity which at the same remains inexplicable and surreal.
Dominik Boberski, Estate, Poland 2006, 4:32
BIO
Born in Algeria, Dominik Boberski spent most of his life in Zielona Góra. Currently he lives in Poznań. A graduate from Graphics Department at the University of Zielona Góra, he made his diploma at the multimedia graphics workshop of prof. Izabela Gustowska. For the last years he has been focusing on computer animation as well as a filmic image.
SYNOPSIS
'Nieruchomoœci' ('Real Estate') is a five-minute time lapse animation based upon a digital photography. The work joins two of the author's passions - animation and architecture. What is unreal in the physical world, the animation makes possible. It brings back to life the communist architecture, perceived by us as painfully boring and lifeless where the only ongoing process is constant decease. This material is extremely interesting while transformed; the movement of forms that seem monumental, definitely still often gives surprising and interesting effects. A little interference - rhythm or proportions distortion - is enough to make the typical Polish blocks of flats affect us in an absolutely different way. In this animation the buildings grow, expand, evolve...
Jae-Kyu Byun, Moving Panorama, Japan 2006, 4:05
BIO
Born in 1975 in South Korea, Jae-Kyu Byun is studying Video and Media Art at the Kyoto Seika University. His videos have been presented at a number of festivals in South Korea, Japan and China.
SYNOPSIS
In this work the artist attempts to introduce the march of time using panorama image, which is different from the still panorama photos. First of all, she made an equipment, which automatically turns 360° to obtain the photos with regular interval. After that, she put together all those still panorama photos as a sequence, which is like another panorama. When it comes to music, she distorted real sound and created some regular electronic noise to emphasize the camera work. The spots she shoot the film are Busan and Kyoto.
Kurt d'Haeseleer, Fossilization, Belgium 2005, 09:09
BIO
Kurt D'Haeseleer was born in Anderlecht, Belgium in 1974. Throughout the years he has obtained a worthy status in the world of video-art. He worked with important Belgian artists and realised a serious number of videos that have been exhibited in many international art-expos and museums. He works for some years now for the Belgian Filmfabriek where finished presented project. D'Haeseleer is also doing the live-visuals on the tuk music performances.
SYNOPSIS
At first sight, 'Fossilization' looks as if the magnetic video tape escaped from the cassette, was badly wrinkled, then stretched out again and fiddled back onto the reel. A syrupy cobweb of threads and lines lies over the images; they merge smoothly into each other and mix with the soundtrack by David Shea, which, during the creation process, formed the starting point for the visuals. Images of people carrying heavy loads whilst struggling against the wind, of groups of people relaxing on the beach, of somersaulting cars that seem to float. Not only does the web move along with the images, distorting and accentuating them, but it also starts to lead a life of its own. It is trying to enclose the things - to protect them perhaps, or wipe them out. Rather than struggling against the wind, the people just might be experiencing fierce resistance from the threads of the web, which grows tighter and tighter. After a sequence of urban street scenes, the camera finally, in a flowing line, swishes along endless rows of tidy suburban houses under a crisp blue sky, with at regular intervals a leafless tree that shoots out like a heartbeat on a monitor. Here the image is clear again, and all signs of human presence have been swallowed up and digested.
Łukasz Gronowski, Untitled Works, Poland 2007, 4:46
BIO
Born in 1979 in Gdańsk, Poland, Łukasz Gronowski is a graduate of the High Art School in Gdynia and of the Multimedia Communication Department at the Academy of Fine Arts in Poznań. A singer of (now nonexistent) punk and hardcore bands Liberatem and Startpoint. A founder and initiator of Ikoon collective and www.icoon.art.pl portal. In 2005 he was a co-leader of an Ltd gallery in Warsaw. In his artwork he uses video, photography, installation, objects and the Internet. He currently lives in Warsaw.
SYNOPSIS
Video from ongoing project 'In', which involves found/pried situation, talks about abstractedness of people's behavior, absurdity of human culture as well as some kind of suspension in time and space. Untitled Works is a record of strange situation - unusual and irrational activity of workers renovating jetty in Sopot. Aesthetics of work is also random, vivid fog creates the impression of some game or performance done by two workers and a digger.
Istvan Kantor, Revolutionary Song, Canada 2006, 9:32
BIO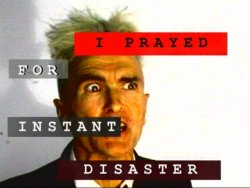 Born in 1956, Istvan Kantor lives and works in Toronto. The artist is active in the fields of robotics, sound, video, performance and new media. His work has been shown at many prestigious international art events, including Documenta, Ars Electronica and Transmediale. The media and critics have described his work as rebellious, anti-authoritarian, and intellectually assaulting, as well as technically innovative and highly experimental.
SYNOPSIS
'Revolutionary Song' pays tribute to the cinematic mayhem of video clips. It tells about the 16 years old Istvan's visit in Paris in 1966. Through recollecting memories of a haircut obligation and conflict with his father, Kantor comments on his favorite subjects: authority and rebellion. He puts video back into revolution! On the way to the hairdresser, under the "hopelessly blue sky" and in an epoch described by Kantor's lyrics as "a time of the rising hippie scum", the 16 years old boy prays for "instant disaster, destruction and fire." In an all encompassing Neoist editing style Kantor commemorates the unpredictable and ecstatic nature of insurrections, from the 1956 Hungarian Revolution to the May 1968 events. He combines anthem like vocals and dramatic noise, historical facts and ironical statements, propagandistic images and plundered film footage, heartbreaking violin sound and spoken words, ecstatic rhythm and church bells. "Long Live the Spirit of Sweet 16 Rebellion!" he concludes.
Dawid Marcinkowski, Sufferrosa, Poland 2007
BIO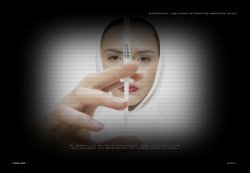 Dawid Marcinkowski is a graduate of the Faculty of Fine Arts at the University of Toruń. A director and hypermedia artist, he is the author of '(Webeo) - Smolik Attitude', the first Polish interactive music video.
In 2003 and 2004 he was a finalist for the OFFF/Experimental Audio Unusual Video Festival in Spain and a finalist for Seoul Net & Film Festival and Electrofringe in Australia in 2005. One of his latest projects 'Someday on the Misty Island' run in co-operation with Małgorzata Walewska was recognized as the best European web art of 2004 at the EUROPRIX TOP TALENT in Vienna.
SYNOPSIS
'Sufferrosa' is a multidimensional audiovisual collage referring to 'Alphaville' (1965) by Jean-Luc Godard. It corresponds with American film noir, silent films and aesthetics of a music video. A surreal and full of clichés, the plot is a pretext to a thought about a cult of youth and fear of death in contemporary world. The world that has been getting old fast.
Monsieur Moo, Neon, France 2005, 00:58
BIO
Monsieur Moo's is a France-based artist whose work is based on collaboration with other artists, dancers, musicians and even artisans' practices. Through these collisions he attempts to provoke interferences and conflicts between his own universe and the one he connects with. His works have been presented nationally and internationally at numerous festivals and in galleries, including Centre Pompidou, National Gallery of Modern Art in Rome and Cimatics - Brussels International Festival for Live Audio Visual Arts & VJ-ing.
SYNOPSIS
In this work Monsieur Moo drives us through a basic installation: a screen on the ground diffusing a looping video in which a dreamlike universe, where an infinity of neons like Damocles swords smashes against a lifeless man's skull who seems not to attach importance to this burden.
Jonas Nilsson, Me & Myself, Sweden 2006, 3:00
BIO
Jonas Nilsson is a Swedish conceptual artist whose major fields of work include video, object and installation. Between 1995-2000 he studied at Art Colleges and Universities in England and Japan, and after several years of studies at Art Schools in Sweden. He is also running the video art project Art Video Screening in collaboration with Eva Olsson.
His works focus on the western way of living which is stressful and has a high-tempo, how we as individuals are spending more and more time and money focusing on our believes to become successful.
SYNOPSIS
Crisis of identity in 21 century, which is a mixture of resignation and hopefulness. The aim of modern life is to be somebody and successful.
Nilsson's works focus on the western way of living which is stressful and has a high-tempo, how we as individuals are spending more and more time and money focusing on our believes to become successful.
Volker Schreiner, Cell, Germany 2006, 4:27
BIO
Volker Schreiner, video artist, was born in Germany in 1957. His work has been presented at festivals in, among other places, Berlin, Oberhausen, The Haag, Rotterdam, Paris, Madrid, Rome, New York, Montréal, Tokyo, Sydney and Moscow, and he has participated in numerous tours. Schreiner's works are owned by the Neuer Berliner Kunstverein, the Mediathek of the Zentrum für Kunst und Medientechnologie Karlsruhe, the University of Québec, Montréal, the Ludwig Museum Köln, the Museum für Neue Kunst Karlsruhe, and the Amsterdam Film Museum, to count a few. He has led numerous lectures and seminars, has held several lectureship and associate professor positions.
SYNOPSIS
Living rooms coolly lit by white noise on TV screens are a familiar harbinger of approaching doom in most feature films. In Cell, just this one unheimisch cinematographic element is put under the magnifying glass. A concentrated montage of countless fragments with flickering and spooky snow-covered screens from Hollywood films. This is the ultimate meta-cinema. No message, just medium.
Laurent Vicente, Superarchiskate, France 2006/2007, 3:48
BIO
Laurent Vicente, born in 1973 in Cannes, lives and works in Paris. His video works have been been exhibited at important national and international art institutions including the Christchurch Art Gallery in New Zealand and Musée Européen de la Photo in France.
SYNOPSIS
'Superarchiskate' shows our faculty to apprehend humanly and personally our urban environment which structures our field of action and vision. Even the taller human building can't contain power which exists between our index and our thumb in our eye's perspective.